STRATEGIC LEADERSHIP ESSENTIALS™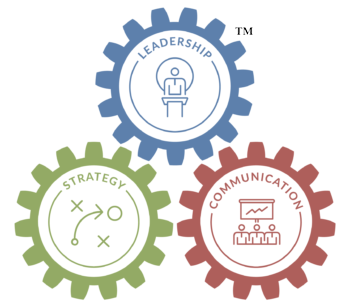 Leadership
Explore and develop techniques and skills to
enhance your leadership and management capability
Strategy
Understand importance of stepping back and using strategic
thinking to ensure clear direction for your organization
Communication
Learn communication strategies essential for
engaging and inspiring stakeholders
"Immediately implementable"   "Best training ever"   "Great skills"
"Profound effect on my leadership"   "Peer to Peer exercises...extremely helpful"   "Highly recommended"
Strategic Leadership Essentials™ (SLE) is a unique leadership training program designed specifically to work with executive directors and leaders in decision-making positions within nonprofit organizations, to become stronger, more effective leaders. This highly affordable, interactive program integrates personal leadership approach with an organization's strategic direction and the communication strategies necessary to engage stakeholders and operationalize strategic direction to achieve greater impact in the communities they serve. The emphasis is on customized learning, peer exchange and clarity of purpose. 
It gives participants an opportunity to step back, reflect and take charge. The program comprises:
     Two-day intensive workshop
     Comprehensive course workbook
     Two one-on-one personalized coaching sessions
     Exchange of best practices
     Training tailored to participants
Max. class size is 14 to encourage idea-sharing and on-going peer collaboration. To assure open conversation, only one person from each organization may attend per class. During the coaching sessions you have an opportunity to discuss your specific challenges and needs with course leaders Craig Snook and Jane Baxter Lynn (in-person or remotely via Skype or Zoom), developing practical ways to address them. 
Craig and Jane developed this program because they recognized that too often leadership development and strategic planning are taught in isolation and communications (positioning, messaging, branding, stakeholder outreach) is rarely, if ever, taught within the context of leading an organization. "Our goal is for participants to achieve a change in perspective by focusing on the fundamentals and ensuring implementation, with ongoing accountability that will empower them to grow and succeed. We see people leave re-energized, and excited about the future, with different ways to approach things."
For information on next training and with other questions, contact us at jbl@jblstrategies.com
JBL Strategies also provides customized board development and training services based on the SLE model.
Strategic Leadership Essentials© program creators and presenters Jane Baxter Lynn and Craig Snook of Austin, Texas-based JBL Strategies have extensive experience in both for-profit and nonprofit leadership, with backgrounds in leadership development, strategic planning facilitation and all aspects of marketing and communication. They both actively volunteer in leadership positions for a variety of nonprofit organizations and are passionate about working with nonprofits to achieve their missions. JBL Strategies provides both advisory services and leadership development training, including a customized Board development and engagement program, Board Leadership Essentials©.